Of course you do that's why you are in the business. However C-Trak may not know the difference between an doughnut and a bagel but we know about bakery conveyors.
After nearly 40 years in the business we should do. We have over the years designed, fabricated and installed conveyors for bakeries and know our stuff.
But what you want to know is how we can help you? That's easy we listen to what you are trying to achieve and draw on our years of expertise to assist.
One of the most frequent questions is loading and unloading using conveyor transfers. It maybe the trays or the actual product but we can offer you the solution you are looking for with our bespoke service.
We are also able to offer integrating systems where we can source your fillers or metal detection units for you or incorporate our conveyors into your existing machinery.
Belt scrapers often go hand in hand with dough and pastry applications as well as our unique internal water jet sprays.
If you want to see some applications, videos and photos please visit our dedicated page on Bakery Conveyor Equipment.
Our latest project was for a dough handling conveyor the client required the dough to be kneaded whilst traveling the length of the conveyor. The solution was purpose made probes that turn and knead the dough that were integrated above the conveyor….with a close working relationship with our customer we achieved the first dough kneading conveyor.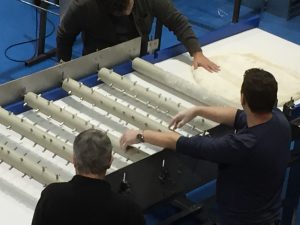 If you would like to see testimonials or our customers satisfaction please contact us on 01525 850316
"If I Knew You Were Comin' I'd've Baked a Cake"
a popular song written by Al Hoffman, Bob Merrill, and Clem Watts and published in 1950.
The best known version of the song was recorded by Eileen Barton