Products
6-nov-19
Conveyors for Bakeries in the UK
Can we help you with your bakery conveyor enquiries?
C-Trak have over the years custom built an extensive range of Bakery Equipment for the food industry. Whether it's an oven or tray loading system or bagel to donuts toppings let us take a look at your project.
Click to Call Tel: 01525 850316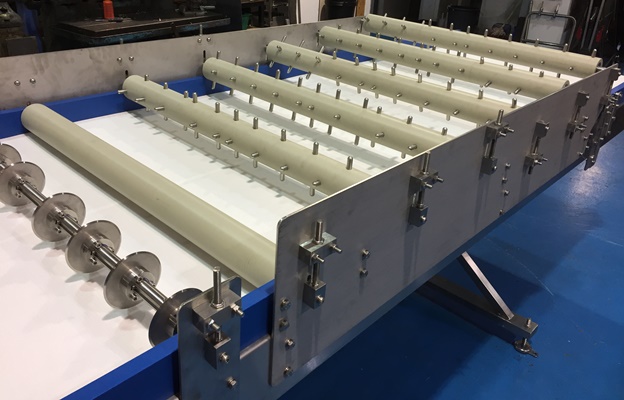 Product of the Year Dough Kneading Conveyor
This application is exactly what it says a dough kneading machine able to take the manual labour away cutting cost and speeding the process. We leased with the customer and worked together to produce a system that kneads the bread over the length of the conveyor with cutting slices.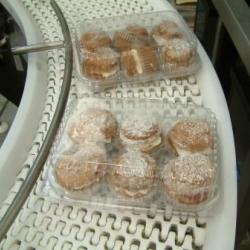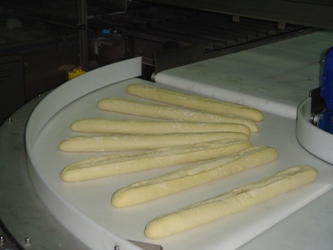 Photo left: white modular bend equipment transporting package cakes to a labeler. Fabricated in stainless steel with food quality belting for easy wash down facility.
Photo right: C-Trak are one of a few companies in the UK that offer a flat belt bend this application is moving baguettes at 90 degrees from one PU belt to another. Another option to flat belt is our new true axis modular belts.
Let us find the best equipment for those hard to handle wet & sticky foodstuffs at high temperatures we use food grade belting with intralox optional belts.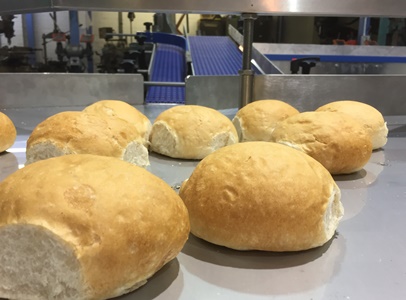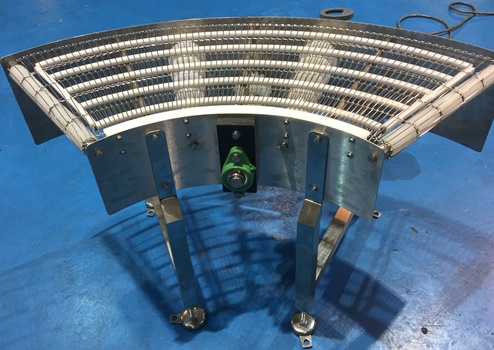 Photo to the left: is a Stainless Steel Rotary Table feeding a modular belt inclined dropping onto a straight mod belt.
Photo on right: is one of our new design Wire Belting Bends which feeds pitta bread to oven.
Conveying equipment in customer's Bakery Plants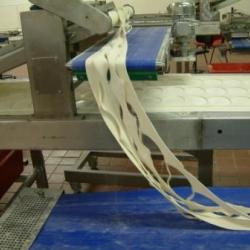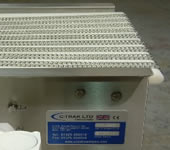 Pastry Line Pick & Pack Biscuits Wire Belting
Our range of high quality bakery conveyor systems can easily be incorporated into your existing machinery at a time convenient to you.
Use our latest processing technology for all your baking requirements. We can also supply wire belt conveyors view our customers case study on scones read on >>
Video's of C-Trak Designed Bakery Conveyor Systems
Our custom built equipment is supplied on site to with no fuss and compliment your other machinery within premises.
Typical Process's which use bakery conveyors
Picking and packing stations - This could mean an end of line or stand alone rotary table or removable side tables that are fixed to the edge or the conveyor.
Product reject with integrated metal detection unit - Within the food industry many operation have integral metal detectors enabling faulty goods to be rejected. This is easily incorporated into your existing machinery.
Going round corners and bends with ease - Bakery floors are busy areas and conveying must adapt to avoid existing machinery this is easily achieve by using slat or modular belt bend with food quality grade belting.
Turning product & sorting with air, motion or water - products often need to orientated in a certain way by pneumatics or motion sensors to prepare for wrapping, cartoning or coding etc C-Trak are able to custom build bakery solutions for each of your individual foodstuff.
Transportation of goods - Your products may need to be channeled to a stackers, ovens or freezers by various means this could be part of our remit to automate your production process thus saving time and money.
Grading & separation of size / shapes - multiple lanes could be fed to single lane or vice versa separating goods as is goes using motion sensors and side guides.
Diverting product - to different areas of your factory ready for the next production process.
Drying your product on heat settings - Your product may need to go through process that include ovens and freezes special wire belts could be used to achieve this.
90 degree angles & transfer of delicate product - Your products are your life line and must be handled with care when going round tight bends where space is limited especial soft fruits and vegetables. Thus careful planning and design must be considered so as not to damage products.
flighted inclines with sealed belted sides - Inclines are achieved on PU belts and modular belts to avoid fall back of products where the radiant of the slope is over a certain angle.
mesh and wire belt for high temp applications - Needed for pizza ovens and hot chocolate coating production lines.
multi tiered equipment - often a demand in pastry lines were waste cut pastry are moved away on transfer belts.
What products are used - pizza, dough, pies, crackers, loafs of bread and cake handling, rolls pastries, pasties, sausage rolls,bagels
Freezing or Cooling - Requires belting able to withstand low temperatures.
Why use C-Trak
Our reputation says it all take a look at our testimonial page.
All our equipment come complete with full warranty for that extra peace of mind.
C Trak Ltd have been designing, fabricating and installing conveying equipment since 1979. So be reassured and confident that we offer the desired expertise to help you with all your requirements.
Our aim is to provide high quality goods and an excellent customer service paying attention to what the client needs and delivering on time.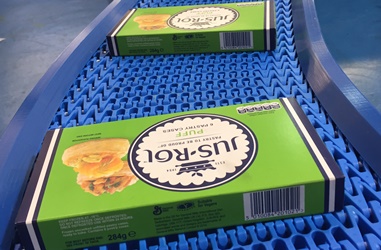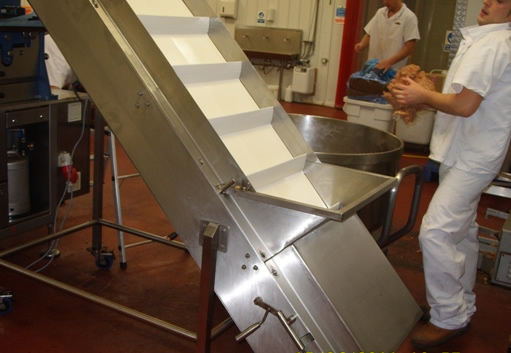 Biscuits on Flights Puff Pastry Handling Elevating Dough
Please view our easy to clean video's to see how hygienic they are.
Bakery Conveyors designed by C-Trak Ltd