Products
12-mar-20
Roller Conveyor Systems Fabricated in the UK
C-Trak Ltd offer a wide range of made to measure rollers offering reliability and hard wearing systems. Click on the links below for the type of rollers you are looking for.
Delivered on time; priced to suit individual budget call for more info
What different Types of Roller Conveyor are there?
Gravity Roller Lineshaft Roller Chain Driven Roller
Flexible Expanders Skate Wheel Pallet Handling

Based in the South East of England and are here to help advice our potential clients with solutions to their conveying handling problems.
24 Volt Zoned Power Roller Conveyors
Gravity Roller Conveyor
The simplest and most economical way to transport your products. Rollers rely on a slight incline to let gravity do the work for you. Below you will see a video and a two tiered roller conveyor.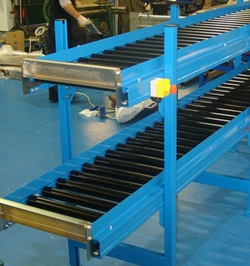 Powered Roller Line Shaft Conveyor
Powered Roller or line shaft conveyors are powered by a motor and are often used when your product needs to go around a bend.
Flexible Roller Conveyors
This is a range of flexible expanding rollers and is extremely popular for the ever changing shop floor or loading areas, as well as being a very adaptable type of conveyor that will accommodate bends.
We can also supply Trailer Loader Conveyors for loading and unloading of your products.
They can be manufactured for Powered Roller, Gravity Roller and Skate Wheel options. A great way to utilize shop floor space in the busy modern day factory.
Read More about our Expanding Conveyors >>
Why buy Roller Systems from C-Trak Ltd
We delivered on time when it is convenient for you even weekends
Supplied with a full guarantee
The best customer service
Competitively priced to suit all budgets
Quality part always used on our systems
Cost effective to help save you money
Installation with the minimum of shut down time
We will handle each project from start to finish doing our very best to serve our customers.
On the move Roller Conveyor Systems