Products
30-sep-20
Incline Conveyor Elevators with Flights UK
C-Trak offer impartial advice on inclined conveyors and the best options to transport your products on steep slopes giving you ultimate efficient conveying for your products. How do i know if i need to add flights let us help you.
.........When all you want is
Quality Product call us now on
Incline Conveyor with Flights Video

We will listen to your needs offering the ultimate elevating solution for your products, custom made in our factory.
Types of Conveyor Inclines that we offer
Grippy Style Belts Flighted Elevators Corrugated Side Guides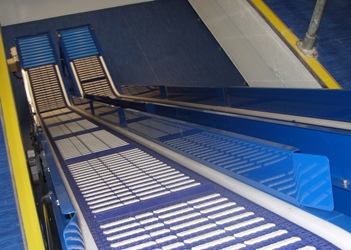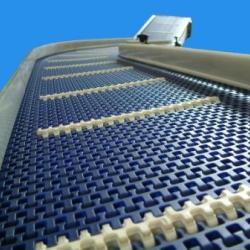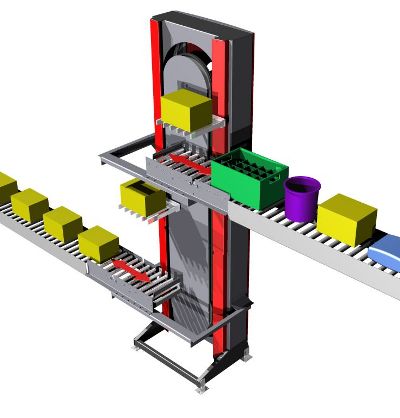 Floor to Floor Grip Flights Vertical Lift
New range of Aluminium Incline for those on a budget
This new product range is in Aluminium for those on a tight budget. We use smiley brackets which allows adjustment for slight inclines.
Conveyor Handling Tissues on Incline
Mobile Elevator Conveyor with Flights, Chute and Hopper
When and where would you need an inclined elevator?
Floor to Floor - Store Rooms
One machine to another
Warehousing and Distribution Centers
Hopper and chute applications
Any application to elevate your products to a different level.
Can I be add Flights for added security of my product?
It is easy to have the addition of flights to stop fall back and spillage especially for loose product. Flights usually need to be added at approx 30°. There are also different grades of belting with a grippy finish to help prevent products from slipping down the belt.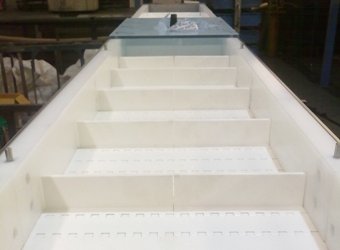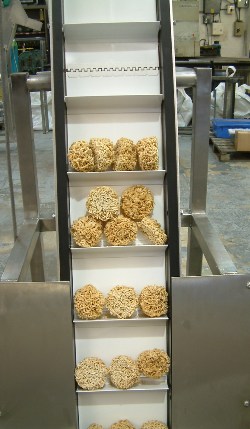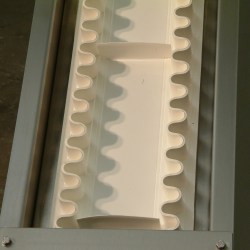 What speeds can inclined conveyors run at?
This will depend on the products that are being handled but variable speeds can be achieved by incorporating an inverter.
If you would like to read about a recent case study to a medical conveyor for going up inclines please read more.....
Can you run flat sections then inclines?
Yes it is possible to have flat runs either side of your incline conveyor this is often called an swan neck conveyor.
A little bit more about us
We have been designing and fabrication inclined conveyors for over 37 years and are a well established company offering custom built systems for all types of industries. Based in Bedfordshire just off of the M1.
Our design office is equipped with the latest solid works 3d package enabling us to offer our customers a visual image of what their conveyor will look like before manufacture.
C-Trak are able to offer our inclined conveyors in either mild steel painted or stainless steel for the food and pharmaceutical industry.
A family run business who implement a high standard manufacturing facility with the ultimate customer care and service department.