Medical Conveyor Elevating Inhalers
C-Trak developed a incline belt system complete with hoppers custom built to suit our customeres nasal inhaler products.
Conveyor Description
Two incline conveyors flighted belts with hoppers to be used to supply inners and outers of nasal inhalers to bowl feeders. The hoppers are manually fed.
Conveyor Design Information

Product:
Nasal Inhalers 18mm dia x 60mm long
Product Boxes:
300x260x400(outers); 240x240x300(inners)
Throughput:
Approx 1300 pieces per hour = 22/min
Belt Speed:
3 m/min fixed
Conveyor Operation
1 No. Flighted Incline Conveyor being 200mm wide x 1600mm long at 75 degrees, the belt had 50mm high flights set at 15 degrees to the vertical and at 150mm pitches.
Fixed side guides 50mm high run the length of the incline conveyors, tight against the belt edge curving around at the top discharging the product through a chute.
Fixed underguards were included with this Incline Conveyor System.
Product is received from manually loaded boxes into a hopper with a lip height of 750mm.
The hopper has a capacity of three boxes.
The incline conveyor is mounted on a box section frame with braked castors +50mm and a fixed speed shaft mounted geared motor drive included.
General fabrication of this incline conveyor is stainless steel grade 304 and food quality materials where possible.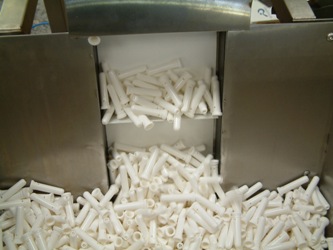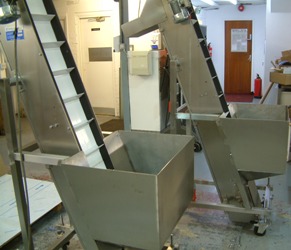 Photos ~ Incline Conveyor System with Hoppers and flighted belts