About C-Trak Conveyors
Welcome to Conveyor Trak Ltd bespoke conveying manufacturers successfully helping businesses with material handling solutions with for nearly 4 decades.
Located in Bedfordshire in the United Kingdom. Got a question then give us a call on
Click & Call Tel: 01525 850316
C - Conveyor Manufacturers of custom built conveying systems
T - Trustworthy honest company
R - Reliable and Reputable business who won't let you down.
A - Advanced technology with a professional approach.
K - Knowledgeable staff with many years experience.
Full support is offered by our knowledgeable team of engineers who can assist you with your product handling. All our products come with a full 2 year warranty.
Our Conveyor History
The business was born in 1979 over the years expanding by acquiring companies such as F & C engineering & Bernco.
In 2005 we upgraded premises and plant. Today C -Trak is still a family run business committed to offering our customer's a comprehensive range of conveyor equipment and still going strong throughout Covid19 and happy to help with any questions you may have.
Design and Build of Conveyor Trak's Systems
We can offer an R & B (Research and Development) service with the aid of our computer design software and expertise in the field.
Fabrication is carried out in our Leighton Buzzard factory in Bedfordshire UK which is equipped with digitally controlled V.D.Us on punching, cutting and folding.
Our drawing office personnel have unbeatable expertise in design concepts and offer 3D drawing Packages.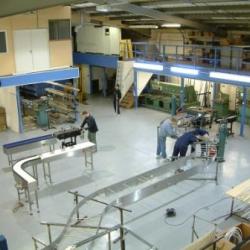 Support On Site from Conveyor Trak
Whether it is layout design, trouble shooting, installation, advice on a solution or any other assistance that you require, Conveyor Trak back their customers 100%.