Products
6-nov-19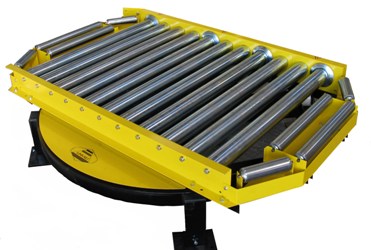 Rotary Turntables used in Packing Areas
C-Trak supply a range of Rotary Tables often called Lazy Susan's suitable for pick and packers, end of conveyor line sortation and feeding.
Options
Standard size diameter are :-
900mm : 1000mm : 1200mm : 1500mm
Alternatively they can be made to any size with additional costs.
Unscrambler Rotary Table & Packing Table Video
Our Tables are used in many industries and fabricated in Stainless Steel for the Food and Pharmaceutical market or painted mild steel with your corporate colors for the more industrial type of rotary turntable.
Applying an organized packing station area will speed up your production process thus saving you time and money.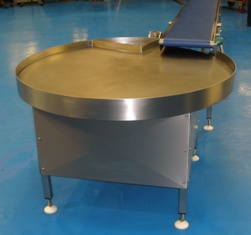 More about our Sorting Rotating Tables
Options include being provided with adjustable feet allowing for adjustable heights. Standard offers a fixed speed motor but additional speeds can be added at cost with a start stop button.
Dimensions of the table top thickness is 3mm thick and can easily be replaced if it has been damaged and will run true to plus or minus 0.75mm
Guide rails can be fitted to ensure your product stays in place.
Rotary Turntable Images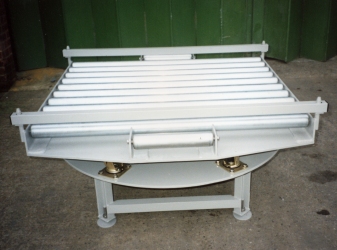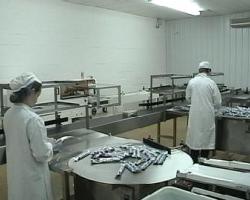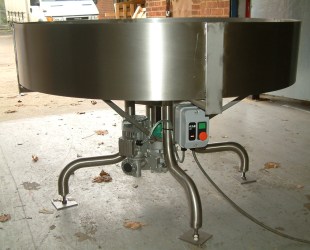 If you would like to view more photos please go to our photo's page
Why use our sorting & discharge tables
C-Trak work with our customers to find a solution to enhance the production line offering value for money with sound advice from our technical department. Visiting your factory to see first hand what is required to be sure you are offered the best resolution to your problems.
Our products are safe and comply with health and safety standards. All come with our full guarantee for your peace of mind. C-Trak have been manufacturing conveyors and associated conveyor equipment for multiple industries including :-
Food Handling
Packaging
Labeling
Recycling
Plastic Injection molding
Automotive
Industrial
Drinks Processing
C-Trak ~ Rotary Turntable for packaging solutions & discharge