Products
October 5, 2022
Conveyor Belt Bends Drives you round the Bend
Uncover the potential of your process plant with one of C-Trak's Conveyor Bend options; designed to go around curves and awkward corners. Designed and Manufactured in the UK.
Call now for Free Site Visit or Quick Quote
Crucial for altering direction on your production line. If you would like more information please do not hesitate to contact us.
Horseshoe Bends
This video shows a project handling boxes of beer for a brewery in London. It is a modular belt bend in the shape of a Horseshoe more commonly know as "S" Bends.
"S" Bend Conveyor using Modular Belting
Bend into Straight Modular Belt
C-Trak Options
Flat Belt Bends
Ideal for general conveying with hard wearing properties only a few UK companies offer this style of belting.
Slat Band Bend
Easily achieving 90 degree bends available in mild steel or stainless steel for food quality standards. View our video page on Slat Conveyor Bends
Roller Bends
Available in gravity, powered roller or skate wheel options as well as our flexible expanding conveyors.
Modular Belt Bends
Again this option is ideal for the food industry disadvantage is the large foot print required to achieve a 180 degree bend.
This particular application was transporting pizza's on an extra wide conveyor bend. This is a special belt which provides the ability to accommodate the large width.
Wired Bends
Able to withstand high temperatures for passing though ovens and heat treated production lines.
Flexible expander Bends
For occasional use to unload vehicles and give you the versatility around the shop floor.
CT1
Reliable with high performance and robust construction. They are typically used for airport luggage, postal sorting centers, automotive industry, furniture manufacturers, paper and packaging and food products.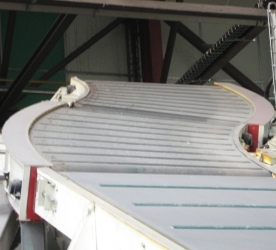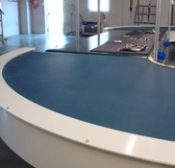 CT1 curved belts are supplied with conical drums. Thus allowing good alignment of the conveyor products, extremely quite and capable of transporting heavy loads at high speeds.
Technical Info:-
High quality, FDA approved, polyurethane conveyor belts
Conveyor belt driven by conical drums and guided by rolling bearings on sewn reinforcements
Angles can be achieved from 20° to 180°
Belt width of 185mm to 1990 mm
Loads between 30 to 200 kg
Speeds 1 to 1.3 m/s
Feet are adjustable +/-50 mm
Direct assembly of a hollow shaft
Compliance with product alignment
Minimum allowable room temperature: 3°C
Type 1 options:
Polyester, Felt, flame-resistant, rubber types of belt.
Speed regulator
Double direction of rotation
Side edges option of steel, stainless steel or plastic.
All RAL paint colours provided in epoxy paint to your corporate colours
Supplied with castors with brake
CT2
CT2 belts have a small over all dimension with a simple but effective design. The 45mm end dia allows small products to be conveyed such as books, envelopes, packed food products, laundry, plastic parts, perfumes and make up, electronics and small metal items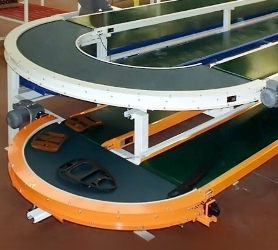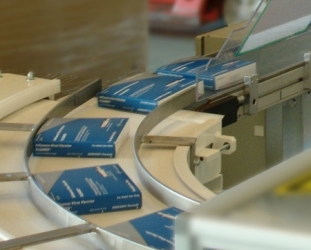 CT2 belt bend conveyors are supplied with 45 millimeter dia cylindrical shaped rolls. The Conveyors belt is guided by the chain. This enables regular continuity that can transfer light loads. It also has a feature to help keep noise to a minimum.
Technical Information
Minimum room temperature: 3°C
Widths of belt from 90mm to 1190 mm
Speeds from: 20m/min to 30 m/min
Angles achievable from 15 degrees to 180 degrees
Supplied with Adjustable Feet +/-50 mm
Loads from 10kg to 30 kg
Type CT2 options:
Variable speed regulator
Automatic chain lubrication device
Double direction of rotation
RAL coloured paint supplied in epoxy paint to your corporate colours
Belts available in flame-resistant, felt, rubber and polyester
Side edges in steel, stainless steel or plastic.
Caster wheels supplied with brake
CT3
This belt conveyors have been designed without an inside radius with parallel rollers at 45 mm diameter. This allows the system to make half turns of 180° with a small overall dimension. It maintains a regular speed and can transport light small loads.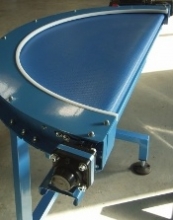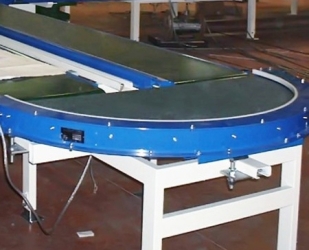 Technical information
High quality, FDA approved, polyurethane conveyor belts
45mm diameter parallel rollers
Conveyor belt are guided by chain
Angles of 180°
Belt widths from 500mm - 1100 mm
Loads from 10kg to 30 kg
Speed up to 25 m/min
Supplied with adjustable feet +/-50 mm
Minimum room temperature 3°C
CT 3 options:
RAL paint colours provided in epoxy paint
Bespoke rails for high speed
Automatic chain oiler
Conveyor belts available in felt, polyester, flame-resistant, rubber
Side edges in steel, stainless steel and plastic
Trunk casters provided with brake
Double direction of rotation
Fitted with speed regulator
C Trak are highly respected UK Conveyor Manufacturer that designs, builds and install pioneering solutions for a variety of material handling needs.
C Trak Curved Conveyor Belt Bends