Dairy Conveyors for Milk Bottles
C-Trak offer a variety of Dairy Handling Systems for farms and processing plants handling all types of products including cheese, milk, butter and cream.
This is an example of a slat system supplied to one of our existing customers that required dust covers over the plastic bottles before filling and capping to eliminate contaminations.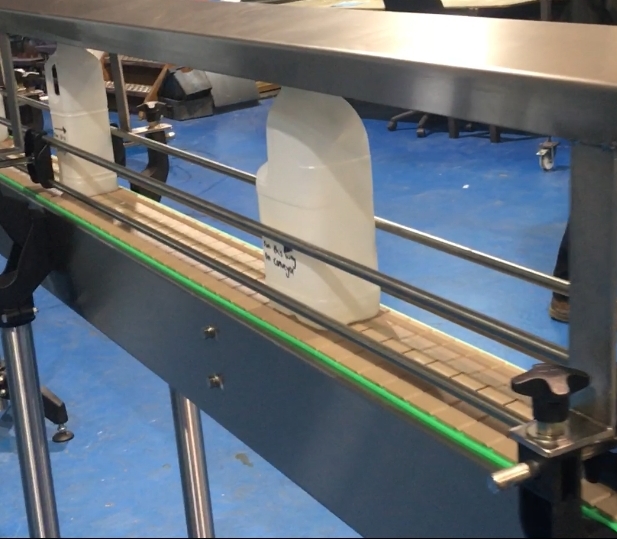 Slat Conveyor Handling Milk Bottles with Reject
Our client required a custom designed dairy conveyor system to handle a range of plastic bottles. The system included a reject device with a IP55 rating.
Supplied and designed by C-Trak Ltd
1 No. 3.25" wide Slat Band Conveyor being 550mm long straight x 180 degree bend x 4000mm long.
1 No. 3.25" wide Slat Conveyor being 600mm long x 180 degree bend x 4000mm straight x bend x 18 degrees x 1850mm straight x bend x 18 degrees x 2250mm long straight.
1 No. Three Lane 3.25" wide Slat Band Reject Conveyors being 2250mm long.

All of the above included general construction of grade 304 stainless steel and food quality materials where possible, fixed double height rod guides, crossovers between C-Trak Ltd supplied equipment, plastic slat chain, SEW shaft mounted geared motor drives and height adjustable legs +50mm.