Products
Last Updated 23-jan-13
Hygienic & Sterile Conveyors
C-Trak offer the latest technology in sterile conveyor belts which far exceeds any previous belts; designed to be versatile for all your raw food sanitized applications.
Sterile Easy Clean Conveyor....
....Designed, Manufactured and Installed by C-Trak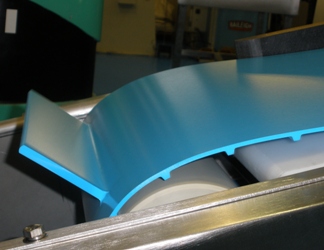 This supreme type of belting is ideal for the food and pharmaceutical industries offering long life and low maintenance.
If its hygiene belts for the food industry then using this very versatile line of belts can be used for a wide range of applications different textured tops for extra grip especially on steep inclines.
These belts having no seams are a reliable solution that will meet the toughest hygiene standards. With no crevices for bacterial be concealed and cultivate. It is easy to clean which saves time on labour and lowers production costs.
Positive Drive Hygienic Belt Conveyors
Food Conveying is demanding the most hygienic levels ever and this new generation on belting technology has been developed to satisfy and excel at providing a variety of applications with homogenous belts.
Ours belts are virtually unbreakable and will provide a long life.
Please also take a look at our sterile easy to clean conveyors
C-Trak Ltd range of Hygiene Conveyors