Products
Updated 6-nov-19
Food Conveyors with Approved Food Safety Belts
What are the best food processing conveyors for handling raw and packed products? Let us help you with our impartial advice.
Its all dependant on your products... are they in packs or is the food directly in contact with the belts let us know so we can help you.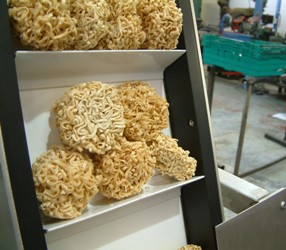 What we offer our customers:
One off food conveyors to multifunctional automated food systems.
A Fantastic After Sales Service 100% Warranty Protection
Call Now for a FREE Site Visit
What Type of food process handling systems do we offer - click on the links below for more information on individual conveying applications.
Bakery Conveyors Meat & Poultry Fruit & Vegetable
Thermodrive Rotating Tables Ready Meal
Confectionery Bottling Handling Metal Detection
C-Trak custom design and build all Food Conveyor Systems supplied with hygiene compliant belting; fabricated in our UK based factory in Bedfordshire.
Video footage Hygienic Food Processing Systems
From the moment raw or frozen products enter your production cleanliness is crucial for health and safe environment; you can rely on C-Trak to ensure your food handling conveyors comply to regulations .
When should I use a food quality conveyor :-
Cleaning of raw fruits, vegetables and salads with water or air
Transportation from one process to another
Separating and grading
Reject systems for defects
Diverting of frozen or fresh produce
Drying
Transfer of delicate fruit and vegetable products
Any handling of food including loose and raw products
Complete sanitizing system where hygiene is essential
Coding and labeling packaging and bottles.
What food products can be handled
Frozen food
Fruit and Vegetables
Bakery products
Fish / Seafood and Poultry
Chilled, Raw and Fresh
Confectionery
Halal
Why Use C-Trak for handling your food products
We offer full warrantee on all of our food conveyors and have a customer service to be proud of and give 100% satisfaction.
Delivered on time to a budget you can afford.
Specialists for handling loose products including tea, coffee beans, granules and powders
Offering a variety of belt solutions that provide a wash down facility which is often needed with wet sticky products.
What grade belting do we use
C-Trak offers a vast range of food quality belting with food grade coatings with sanitation in mind. Fully compliant to the EU and FDA regulations
Thermoplastic polyurethane (TPU)
Thermo drive
White Belt or Blue food grade Belting
Antibacterial grade belting
Abrasion resistant coating
Chemical resistant for example cleaning product
Blade and knife resistant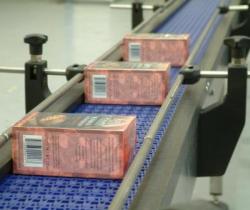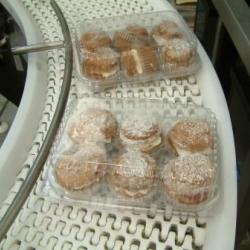 Did you know we do a range of ready meal conveyors pre packed for airlines with reject and metal detectors for more information please go to our dedicated page pre packed foods
If you would like to see more photos click here...
Food Safe Conveyors
Many of the food processing conveying systems we supply are for the bakery industry and require scanning with a metal detection system for more information please visit our dedicated page for metal detection for the food industry.
We also offer self cleaning conveyors which can be supplied with internal jet sprays or end scrappers