Conveyor for Scones
Description
To Manufacture and Control, Wire Belt Conveyors and Plastic Belt System to transfer scones from a travelling slat oven and under an existing make up line to manually pack onto trolleys. To be conveyed at a variable speed of 0 to 6 m/min
Wire Belt Solution Supplied by C-Trak
1 No. Wire Belt being 600mm wide x 2700mm long c/w infeed sheetmetal "slide" to assist transfer from oven to belt.
1 No. Plastic Belt being 600mm wide x 2500mm long c/w inclined section to feed product to a table (by others) for hand transfer and packing.
for more information on plastic belt conveyors please click here

General construction is grade 304 stainless steel with food quality materials where possible. Support legs/brackets are to suit existing make up line.
Both systems have stop/start/isolator variable speed controllers and can be connected to a single phase 240Vac supply.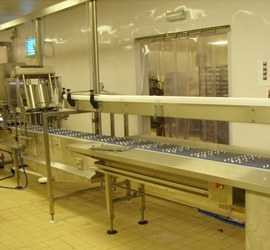 Bakeries
C-Trak have a dedicated page for our bakery handling equipment that can withstand oven tempretures for more infomation please read more here >>