Chiller Conveyor ~ Slow moving
Description
This conveyor was designed to replace and existing modular belt conveyor to be inside a large chiller unit. At a relatively slow speed.
Click to Call Tel: 01525 850316
Conveyors designed to accomodate Chiller Units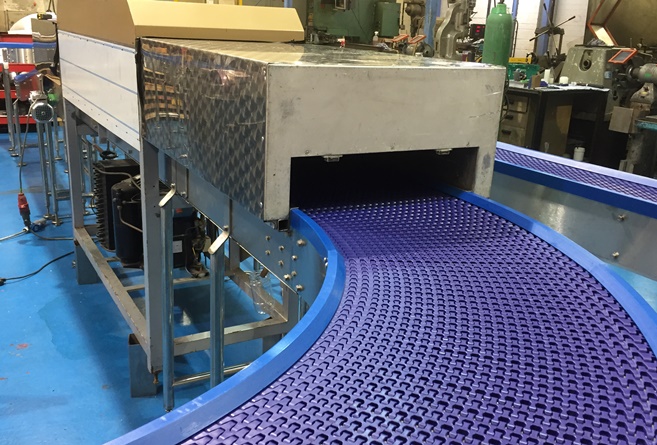 C-Trak Video ~ System enclosed within a Chiller
Chiller Conveyor Design Information

Product:

Plastic Tubs 70-105mm diameter

Coverage:

Maximum possible single layer Belt

Throughput:

Speed: 0-0.67 m/min

Max. Weight:

Weight: 220 gms max per tub
Mod Belt Conveyor Operation
1 Plastic Modular Belt Conveyor 1500mm wide x 8000mm long x 900mm high supplied with integral fixed side guides. At the discharge end, there is a pair of sheet side guides 50 mm high, close to the belt, which taper the product down to 1080mm wide over a 1250mm length to feed onto existing rotary table dead plate.
The Conveyor is mounted on a box section framework supplied with adjustable feet +50mm. A shaft mounted geared motor drive & variable speed stop/start/control unit was included
The v/speed controller was mounted within a standard stainless steel electrical enclosure and positioned centrally under the conveyor at the discharge end.
The Customer mounted a new chiller tunnel on the conveyor frame and an allowance was made in the strength to accommodate this.
To assist in the construction of the tunnel, which was predominately made of marine ply and plastic sheet coating, the framework was built in a "hoop" form with the frame positions to suit screwing the 8ft x 4ft marine ply.
Allowance was also calculated within the design to allow for fixing of horizontal sheets of ply at the top, below the belt & above the belt to create a smaller flow area above the product.
The tunnel was 7200mm long with 400mm open entry and exit lengths on the conveyor. Within the framework above the conveyor there was a 10swg tray supplied with 1" diameter drain pipe to one side, to support the chiller unit
General construction is grade 304 st st and food quality materials where possible.