Crate Handling Gravity Rollers
To manufacture an gravity roller conveyor to transport crates for a client.
The video below is some other gravity roller designs and fabrication.
Back to the crate project
Roller Conveyor System Information

Product:
Crates 300mm x 400mm
Weight:
175kg
Easy moving Gravity Conveyor System
1 No. Gravity Roller Conveyor 312mm wide between frames x 2500mm long x 900-700mm height decline supplied with integral fixed side guides 60mm above rollers.
Rollers are 50mm diameter at 75mm pitch.
The Roller Conveyor is mounted on a box section framework supplied with adjustable feet +50mm. General fabrication is grade 304 stainless steel frames and rollers.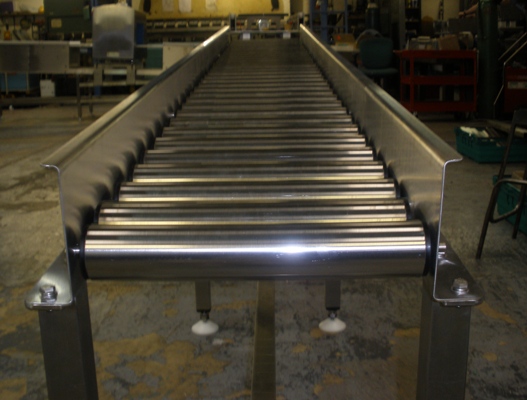 This video is for another conveyor system designed and built in house for carring crates using a chain style conveyor.
Read our Testimonials for this Customer