Conveyor with Ball Table
Description
To manufacture a belt conveyor that was supplied with a side table support for two ink jet coder units feeding cartons onto a ball table for product orientation/inspection & packing into outers.
Heavy Weight Belt Conveyor Design Information

Product:
Cardboard cartons of food products typically 80 x 80 to 225 x 220mm
Product Boxes:
Cardboard typically 500 x 500 x 500mm
Weights:
Inners = 2 kg; outers = 25 kg
Belt Speed:
0-4.5 m/min v/speed
Conveyor Supplied
1 No. Heavy Duty Belt Conveyor 300mm wide x 3000mm long x 860mm high supplied with rod side guides 1500mm long from the infeed. The left hand guide was fixed at edge of belt 15mm high +10mm high, right hand guide 30mm high +10mm high and was made adjustable from edge of belt 200mm inwards.
The conveyor side section was 200mm deep at its shortest to allow fixing of other items on the conveyor by Customer ie coder height adjustment assembly, PECs etc.
Along the right hand side is a 50 x 300mm channel welded to the support frame for Customer to fit other electrical items.
We also supplied a heavy duty (3mm sheet) side table (on left hand side) 400mm x 1400mm x 500mm high which was supplied withsupport legs to allow fitting of two coder units above, and two enclosed welded sheet cupboards each with a sheet hinged door and padlock hole, for storing chemical bottles etc by Customer.
The conveyor & shelf are on a common box section frame with adjustable feet +50mm.
There is a v/speed stop/start/isolator control unit with 2 off e/stop units fitted diametrically opposite at each end of the conveyor.
General construction is grade 304 st st and food quality materials where possible, a shaft mounted geared motor drive unit is included.
Ball Table Supplied to our Customer
1 No. Ball Table being 700mm wide x 1500mm long x 860mm high fitted with 22mm ball units set at 100mm staggered pitches; 20mm high bolt-on fixed edge guides are fitted to three sides. There is a set of mini gravity rollers 200mm long bolted to the table as a transfer from the conveyor.
The table is mounted on a box section frame with adjustable feet plus or minus 50mm.
General construction is grade 304 stainless steel and food quality materials where possible.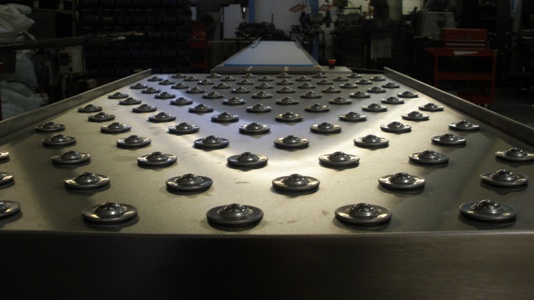 Heavy weight equipment Video from C-Trak