Modular Belt Conveyor for Toiletries UK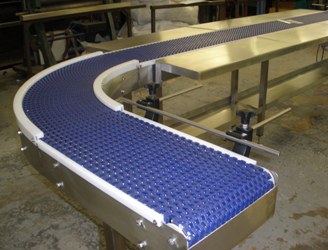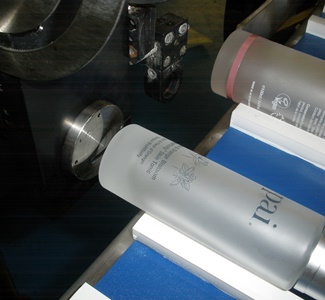 Belt Conveyor Description
To supply a modular belt conveyor to link customers existing machinery and a new labeler.
Modular Belt Conveyor Design Information

Product:

Wide range of toiletries and creams smallest being 39mm dia x 90mm high

Speed:

0-10 m/min v/speed

Throughput:

up to 120 products per minute
Modular Belt Conveyor Supplied
1 off Plastic Modular Belt Conveyor being 300mm wide x 600mm with a belt bend of 90 degree plus 3400 long x 900mm high it came complete with 200mm adjustment and one side single rod guide opposite the labeling machine exit 600mm long, and a pair of adjustable (full width adjustment) rod guides at the discharge end 800mm long overhanging the existing machinery by 200mm.
All guides are set 50mm high.
There are 6 No. side tables each 300mm x 900mm; placed three a side. These are easily removable by hand, and can be placed on a shelf under the conveyor when not required, which was 2000mm long.
The Conveyor was mounted on a box section framework with adjustable feet +50mm.
A shaft mounted geared motor drive & variable speed stop/start/control unit was included.
General construction is grade 304 stainless steel and food quality materials where needed.