Portable Conveyor Incline ~ Food Company
This project was to manufacture a portable inclined flighted belt conveyor to feed flapjack mix into a moulder machine hopper
Portable Incline Conveyor Design Information

Product:
Sticky flapjacks
Loading:

Hand fed in chunks up to 200 x 200 x 500mm approx 20kg each max

Throughput:
30 per minute
Belt Speed:
5 m/min fixed
Environment:
Wipe down cleaning
Portable Flighted Conveyor Operation
1 No. Flighted Inclined Portable Conveyor 600mm wide x 3500mm long inclined at 45 degrees, the belt is silicon coated and was supplied with a central tracking strip and 70mm high flights angled forward at 15 degrees @ 250mm pitches; sheet side guides 100mm high run the length of the conveyor, tight against the belt edge, with curved over ends at the discharge, a scraper is positioned here to catch the top of the flight and assist in product release.
There is a small hopper area at the infeed with a 450mm x 600mm open area x 300mm high longest side; the height at the lip is 900mm, the discharge height of the conveyor is 2600mm.
A full length under tray was included. The general design of the transport area was to minimise any areas of product entrapment, and product that does not exit into the hopper which will fall through on the belt return to the floor.
There is a belt quick release mechanism to slacken the belt for cleaning of both sides; all side guides, infeed hopper and under tray are manually removable by hand wheel knobs.
All surfaces are angled where possible.
The conveyor was mounted on a box section frame with braked castors; a fixed speed shaft mounted geared motor drive with stop/start/isolator control included (the control is recessed within the conveyor on the RH side at approx 1200mm high)
Conveyor handling sticky products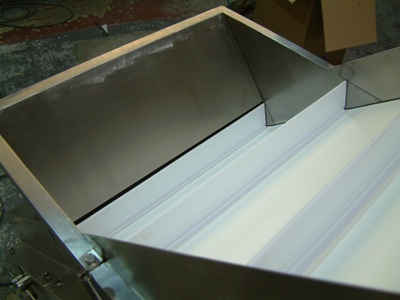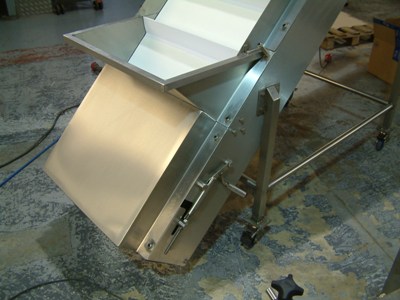 C-Trak Photos