Product Transfer Conveyor Project
This project involves the manufacture of a transfer conveyor taking 3 product lane into 1.
Description
This has been achieved by designing a conveyor that incorporates a control system with sensors to achieve smooth product transfer.
Transfer Conveyors Design by C-Trak

Product:

Medical transport cool bags

Throughput:

20 Bags per minute

Belt Speed:

N/A

Environment:

Hygienic Conditions Medical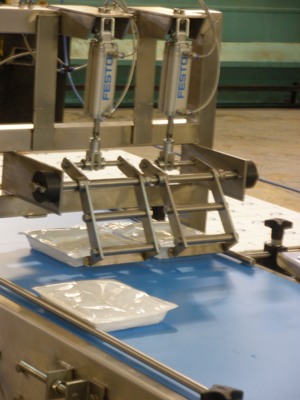 Product Sorting Operation
The control system took 3 lanes of product and single filed them prior to an ink jet coder. There were several pack sizes and formats that had to be taken into consideration. The sortation was able to produce 20 packs per min.
The central panel was supplied with a selector switch for 3 different pack size.
C-Trak Video
The video below is another project using conveyors to transfer pastry rolls at 90 degrees to feed an existing machine.