Elevating Conveyor
C-Trak offer a range of products that will take your products to another level take a look at our dedicated page on Incline Conveyors with flights from our standard range click here
Below is a special food project for one of our customers.
Typical Project with Flights for food company
Our customer needed to transport his flapjacks on a mobile conveyor to a hopper for the next handling process. This was a repeat job of a similar incline conveyor supplied earlier in the year.
Conveyor Description
To manufacture an inclined elevator belt conveyor with flights with food quality silicon coated white belting.
Conveyor Design Information

Product:

cake mix with density of 1.2kg/litre

Loading::

Hand loaded mix

Throughput:

165 kg/20 min

Belt Speed:

5 meters per min

Environment:

Wash down cleaning in food factory
Conveyor Operation
1 off Flighted Elevating Belt Conveyor 300mm wide x 3500mm long rising to 45 degrees. It was essential for the customer to have the elevator conveyor mobile for versatility.
The belt was supplied with central tracking strip and was silicon coated and has 70 millimeter flights which were angled forward at 15 degrees at 250mm pitches.
The design included a stainless steel small hopper area at the in feed area.
A tray was included. The general design of the transport area was to minimize any areas of product entrapment, and product that does not exit into the moulder hopper will fall through on the belt and return to the floor.
There is a quick belt release mechanism to slacken the belt for cleaning . Hygiene and easy cleaning was very important to our customer so at the design stage time was spent ensuring this conveyor was equipped to have a wash down facility at the end of the day.
The conveyor was mounted on a box section frame with round tube horizontal members & braked castors; the longest leg ie the one nearest the discharge point was set at 850mm horizontally away from the discharge point.
A fixed speed shaft mounted geared motor drive mounted on the RH side viewed from the feed, with a stop/start/isolator control.
General construction is S/S grade 304 and food quality materials where possible. All welds are continuous.
Due to the addition of an extra driven paddle unit to be fitted to the moulder machine, it was require that the conveyor needed to be raised up by 250mm. This was achieved by a set of box frame extension pieces which were made to accompany the conveyor.
This meant that the height of the hopper rim was increased to 1050mm after this addition.
C-Trak Food Handling Video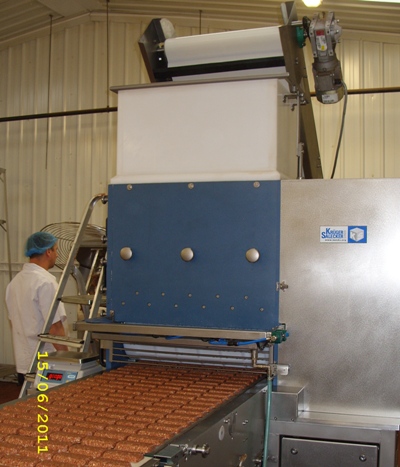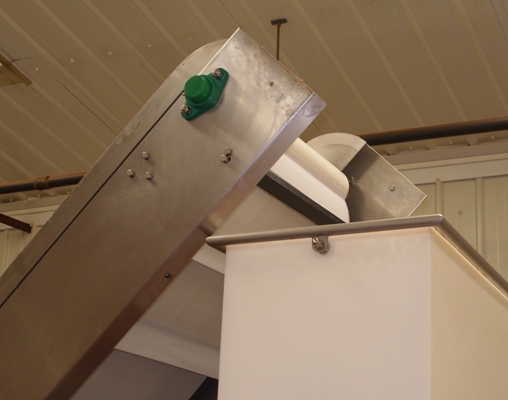 Photos ~ Flighted Elevating Conveyor System