Quick Release Belt Conveyor
Conveyor Description
This customer required a quick release mechanism for his belt conveyor handling unwrapped cookies, manually loaded and removed as part of a robot decorating system.
Click and Call us now on Tel: 01525 850316
Go to our conveyor videos for our quick release conveyor belts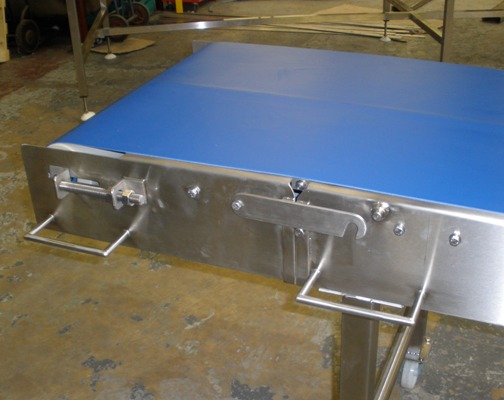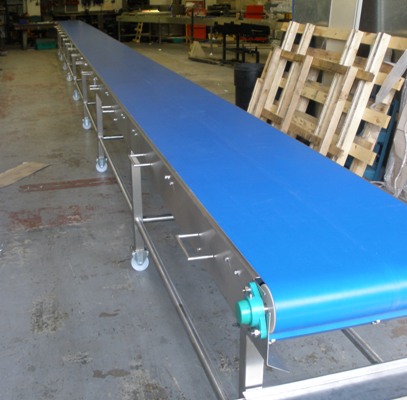 Quick Release Conveyor Belt

Product:

Unwrapped cookies typically 60mm diameter

Belt Speed:

20 m/min fixed operated in an indexing motion

Environment:

Wash/Wipe down Cleaning IP55
Similar Cantilever Belt Removal Project Video
Quick Release Operation
The Belt Conveyor supplied for this project was 600mm wide x 15540mm long x 887mm high; roller diameter for both drive and tail was 110mm.
The belt conveyor was mounted on 50mm box section framework supplied with fixed 100mm diameter wheels (stainless steel brackets, nylon wheels) bolted directly to the frame; these were positioned such that the conveyor as a whole unit can be pulled out sideways for cleaning.
Handles are included one side for easy moving. Because the conveyor had to engage with other equipment, allowance was made for further brackets to be made to fit fixings
The belt has a central tracking strip (un-notched) and a lift-up, hinged belt release arrangement 500mm long is included to allow the belt to be lifted for ease of cleaning; a fixed scraper (for general crumb removal) and removable catchment tray was included at the drive end.
The framework will be cross braced for rigidity, all cross bracing's were round or set at the diamond position and the side section edges set at 45 degrees facing inwards for ease of cleaning.
The belt is blue semi-gloss finish. General construction is grade 304 stainless steel and food quality materials where ever possible, a shaft mounted, end driven, geared motor drive unit was included and positioned on the Left Hand side.
For purposes of alignment and testing, the legs were pre-agreed to suit the positions of the robots, and there were also 3 No. split points; the conveyor was supplied with 2 No. belts so that the conveyor can be assembled and run at two operating lengths-15540mm & 7980mm.
For general information on our belts go to C-Trak Belt Conveyors
C-Trak Release Belt Conveyor Video