Replacement Conveyors
We are often asked to replace existing equipment with quality conveyors the objective to save time and money.
Our aim is to offer a cost effective solution making sure it will more than satisfy our customers specifications for the application required.
It maybe the original equipment is old or broken, but often we find that cheap poor quality conveyors have been supplied that have caused breakdowns and production loss.
Sometime even the wrong type of conveyor was supplied in the first place. It is important to have your material handling analyzed to see what options are available for you.
Client Project for a replacing conveyors
This particular job was to replace an existing roller conveyor with a more economical modular plastic belt conveyor.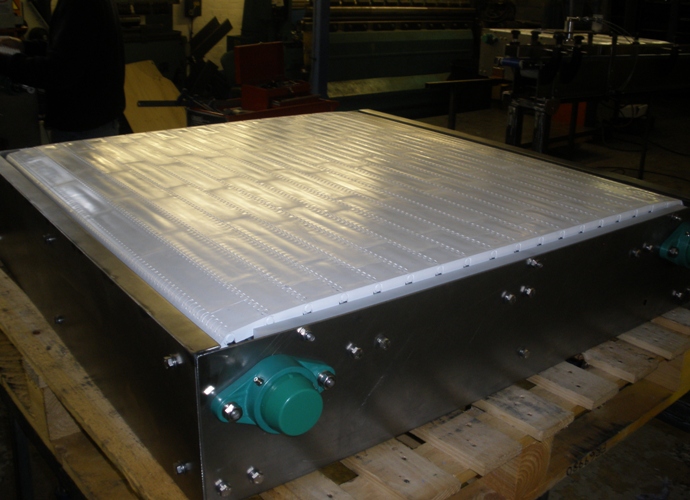 Conveyor handling Pallets
To manufacture heavy duty modular belt conveyors to replace our customers existing roller conveyor as part of a sheet steel stacking operation.
For more information on our pallet range please click here >>
Heavy Duty Modular Plastic Belt Conveyor Supplied
Product: Sheets of steel on wooden pallets max weight = 2500kg
Pallet Size: 940mm x 950mm x 450mm high fully loaded
Pallet Orientation: Either direction
Belt Speed:4metres/min
Rise & Fall Conveyor:
1 off Heavy Duty Plastic Modular Belt Conveyor being nominally 950mm wide x 1000mm long without support legs but fitted to existing rise & fall scissor lift baseplate.
For more information on our mod belt go to C-Trak Plastic Belts >>

Discharge Conveyors:
2 off Heavy Duty Plastic Modular Belt Conveyors each being nominally 900mm over all width split into 3 No. individual belts each being 200mm wide x 1100mm long with 150mm gaps between. The conveyor frame is floor mounted on bolt down angle brackets. Available height to top of belt is 255mm