Plastic Belt / Swan Neck Conveyor
This conveyor project involved a swan neck conveyor and plastic belt conveyors to transport chicken feet.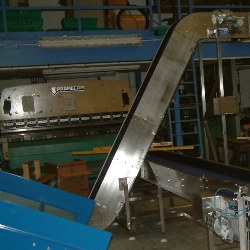 Conveyor Description
To manufacture plastic belt conveyors to feed chicken feet dropped from an overhead line and feed a scald machine.
A bypass diverter was included. Product is received from the scald m/c discharge and a second conveyor takes it to the infeed chute of a skinning machine.
Swan Neck Conveyor Design Information

Product:
Chicken feet each weigh 30gm approx size 125mm x 75mm x 15mm
Belt Speed:

Conveyor "A": 4.65 metres in 4 minutes = 1.16 m/min max v/speed
Conveyor "B": 5 m/min max v/speed

Throughput:
8000 birds/hour = 266 chicken feet every minute = 1064 feet in 4 minutes
Environment:
Hose down
Plastic Belt Conveyor Operation
Conveyor "A": 1 No. Straight Plastic Belt Conveyor being 450mm wide x 5000mm long x 750mm high c/w fixed side guides 100mm high.
An angled pneumatically operated diverter is at the end of the conveyor complete with d/a solenoid operated valve 24 dc controlled by Customer.
Swan Neck Conveyor Operation
Conveyor "B": 1 No. Inclined Swan Neck Plastic Belt Conveyor being 300mm wide x 500mm long horizontal straight x 2500mm long inclined section at 60 degrees x 500mm long horizontal section x height range 300-2500mm.
The belt has 75mm high flights at 250mm pitches and fixed side guides 100mm high.
Both above conveyors are mounted on box section frameworks complete with adjustable feet +50mm.
General construction is grade 304 st st and food quality materials where possible, shaft mounted geared motor drives complete with varable speed stop/start/isolator control units were included.