Conveyor Platform & Steps Inspection System
This project was to fabricate an elevator belt conveyor system with access steps fo Inspection purposes.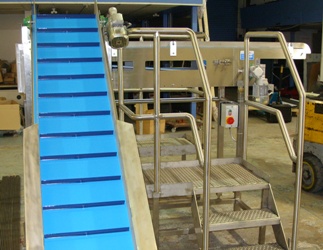 Inspection Conveyor Description
Manufacture a belt feed conveyor and inspection conveyor with special conveyor platforms delivering mushrooms to an existing vibratory feeder system.
Elevating Conveyor with Platform Design Info

Product:

Mushrooms from 20-120mm diameter

Belt Speed:

15 m/min fixed

Environment:

Hose down
Conveyor with Platform System Operation
1 No. Feed Belt Conveyor being 400mm wide elevated at 41 degrees x 2200mm long with an integral fixed infeed hopper 200mm high & side guides 100mm high.
Typically 600mm x 400mm trays are manually "upended" onto the infeed area of the conveyor. The belt has 30mm high flights at 150mm pitches and delivers the mushrooms up and onto the inspection conveyor.
There are raised local side guides at this point 200mm high. The feed side was cut away to suit to make the elevator conveyor as low as relatively possible. An under guard was also included.
1 No. Inspection Quality Belt Conveyor being 400mm wide 2500mm long x 1600mm high with integral fixed side guides 50mm high. The discharge end has a reduced side section approx 80mm x 500mm long to clear the existing vibrating conveyor and side mounted vibrator motor.
There is an integral platform either side 600mm x 1000mm at a height of 600mm with raised, non-slip perforated grating base, steps & handrail to suit.
Conveyor and platforms are mounted on a box section framework with adjustable feet +50mm.
General construction is grade 304 stainless steel and food quality materials where possible.
Shaft mounted fixed speed geared motor drives & stop/start/control units were included.
The general design of both conveyors includes side apertures for hose through access and cleaning.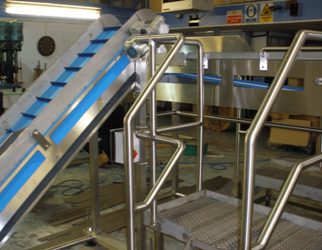 Photos ~ Inspection Conveyor System with Platform & Steps