On the Way Up with Noodles
To fabricate incline belt conveyor for a food company to transport there dried noodle nests.
Conveyor Description
Inclined, flighted, plastic belt conveyor carrying a noodle type product from a hopper through a metal detector to further processing.
Incline System Information

Product:
Baked dry noodle "nests" 75mm diameter x 50mm brittle in nature
Product Temp:
Up to 80 degrees C
Throughput:
1 Bin (1360x730x810mm)=800 litres every 4 mins=200L/min.
Flight volume=50x350x250mm pitch=4.4L @50% vol=2.2L
200/2.2=90 pitches/min=90x250=22.5m/min. Use 25m/min
Metal Detector:
3 m/min fixed Sartorius model MDE-C with aperture 90mm x 500mm
Elevating System Operation
1 No. Plastic Modular Belt Conveyor being nominally 400mm wide x 3200mm long inclined at 62 degrees. The belt is made of white FDA approved polypropylene, and has a 1" pitch "one piece" type module and flight being 2" high x 350mm wide at 250mm pitches; integral fixed side guides 55mm high were included and curve around the discharge section.
Approx: 1000mm along the conveyor a metal detector will be mounted, C-Trak provided a metal free area to suit.
The belt passes through the metal detector aperture on the carrying surface, and on the return, it will passes underneath the metal detector via suitable guiding.
The conveyor and metal detector were supplied without any support structure, although the conveyor was retained between sheet metal side sections.
There is bolt on sheet under guarding and on the portion of conveyor between the metal detector and top there is one lift off flat clear polycarbonate cover located on pins with handles.
General construction is grade 304 stainless steel and food quality materials where possible. A shaft mounted geared motor drive unit is included, and mounted at the discharge end angled down in line with the conveyor.
The drive unit was positioned on the left hand side as viewed with the belt travelling away.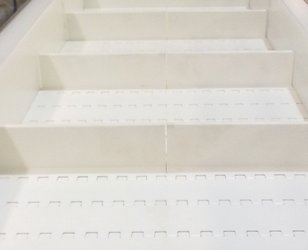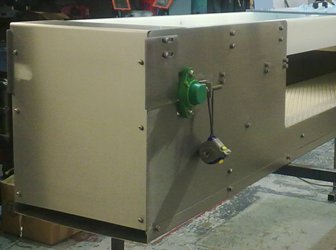 C-Trak Ltd Conveyor Photos