Sloping Conveyors at Steep Angles UK Designer
To manufacture sloped belt conveyor taking hand fed waste products at a steep angle over a wall and into a mixer unit. Black Painted Mild Steel.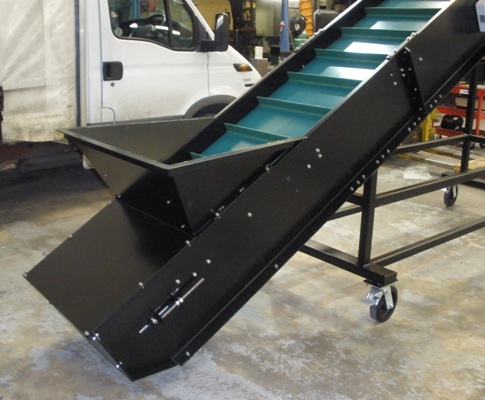 Sloping Conveyor Design Information

Product:

Waste products typically food and green waste

Wall Height:

2438mm x 250mm thick; space in front of wall = 4500mm

Throughput:

By Hand

Belt Speed:

18 m/min

Mixer:

Placed on opposite side of wall with an infeed aperture of 2000 x 4000mm

Mixer Height:

2640mm with the lip of the aperture 1000mm from the wall

Environment:

Weatherproof
Sloping Conveyor Video from C-Trak Ltd
Angled Conveyor Operation
1 No. Sloping Belt Conveyor being nominally 600mm wide x 6460mm long angled at approx 40 degrees x 700-4150mm high.
The belt has flights to assist the transfer of product and fixed under guards were included. The conveyor is mounted on a support framework and there is an infeed hopper nominally 900mm square with tapered sides to be fed by hand.
200mm diameter swivel castors were fixed to make the unit fully portable.
General construction of above is black painted (coated) steel with geared motor head drive unit and stop/start 3 phase control.
Other C-Trak Angled Conveyors with Flights from our Youtube Channel
Photos ~ Slopping Conveyor System flighted belts