Tea Handling Conveyor UK on Plastic Belt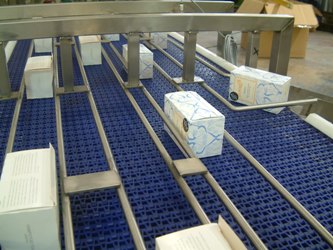 Conveyor Description
Generally to receive tea cartons from up to four IMA machines, collate in groups of 6 from four lanes into one, and transfer through a gluing machine for final hand packing. A check weigh / metal detector machine will be positioned after the single lane operation at a later date.
Tea Conveyor Design Information

Product:

Tea Cartons

Size:

140mm x 80mm x 70mm short edge leading

Throughput:

12.5 cartons per minute per IMA machine

Max. Weight:

75 gms per carton

Site:

Gloucester
Plastic Belt Conveyor Operation
Cartons exit the IMA machine at low level short edge leading and transfer onto an inclined sheet metal chute A which, in turn, feeds onto a plastic linked conveyor B in a guided lane.
Cartons pass down the conveyor to the end (short edge leading) against a mechanical stop and lane control area. This arrangement is repeated through places for four IMA machines down conveyor B; three IMA machines are connected initially, a fourth is to be added later.
More Projects for Loose Product Conveyors
Back to Tea Carton Project
The operation of the lane control area is as follows:-

Cartons travel freely down all four lanes in guides up to a mechanical stop.
Sensors determine when a lane has six cartons. A pneumatically operated pusher moves the group sideways, which allows it to go onto the accelerator conveyor C.
Each lane releases a group in turn on a first come first go basis, this means that if an IMA stops or is not being used it has no effect on the lane control.
There are build back sensors positioned further back down conveyor B such that if they are covered, then that lane is not releasing for some reason & a signal is sent to that IMA
A light on top of the panel flashes to alert the operator to the problem.
The four lines of cartons in turn feed across a grip faced belt acceleration conveyor C to create a gap. The groups of cartons pass across plastic modular belt conveyor D which has two integral side mounted vertical conveyors angled across longitudinally to bring each line of cartons into a single lane.
From here they transfer onto plastic link belt conveyor E (or check weigh/metal detector machine first-at a later date), and then via a dead plate onto the existing glue machine infeed conveyor.
A mobile belt conveyor F is positioned at the glue exit and is used for ink jet coding.
All conveyors are fixed speed.
The lane control system has its own local steel painted panel c/w plc which link to the sensors & pneumatic pushers. Conveyor B is operated via this panel and pressing the e/stop on this panel will stop conveyor B and the lane control system; this in turn will send a signal to all IMAs. All pneumatics in the lane control area are piped to a point near the panel.
Clear polycarbonate bolt-on hoods cover the moving parts c/w interlocked access doors to the lane control area.
All other conveyors have local stop/start/isolator controls and will work independently to conveyor B and the lane control system
Each chute A includes a manually operated divert gate to feed products off-line and into a bin for re-introduction into the system at a later date. Product must be cleared before closing gate.
On conveyor E, a manually operated divert gate performs the same operation.
Plastic Belt Conveyor Supplied
4 No. "A1-4" Inclined Sheet Metal Chutes c/w manual divert guides
1 No. "B" Plastic Belt Conveyor 750mm wide x 13000mm long
1 No. "C" Grip Belt Acceleration Conveyor 600mm wide x1000mm long
1 No. "D" Plastic Belt Conveyor 600mm wide x 1000mm long c/w 2 No. Side Mounted Vertical Conveyors 100mm wide x 1000mm long
1 No. "E" Plastic Belt Conveyor 200mm wide x 1500mm long x 90 degree bend x 1500mm long c/w manually operated divert guides & 150mm long dead plate exit
1 No. "F" Mobile New Mini Belt Conveyor 200mm wide x 1000mm long c/w braked castors.
1 No. Lane control area c/w guides & pushers fitted to conveyor "B"

All support structure, guides and polycarbonate bolt-on hoods c/w interlocked access doors at the lane control area.
Allowance was made for pre-fitted M6 female connections either side of all the conveyor legs for Customer to fit any trunking required.
Equipment is generally grade 304 stainless steel and food quality materials where possible except the lane control area panel which will be painted steel.
All fixed speed shaft mounted drive units
All interconnecting field wiring between electrical controls and equipment supplied.
All conveyors have local stop/start/isolators except conveyor "B"
Painted steel lane control area electrical panel c/w plc, buttons, lights, e/stop & flashing light with allowance for signal connections to IMAs.
All field controls and sensors within the lane control area
All field lane control area pneumatic equipment piped to a local FR unit
Lane Control Area Panel Software Design and Documentation provide for customer
Delivery Mechanical & Electrical Installation
Commissioning immediately followed installation.
If your looking for a conveyor to separate your products by sortation methods please click on the link for segregation conveyors