Fall & Rise Wash Lift Conveyor
Click & Call Tel: 01525 850316
Conveyor Description
To manufacture a vertical rise & fall wash lift designed to transfer items to & from the production and wash rooms, manually loaded and unloaded as required.
Vertical Lift Conveyor Supplied
Conveyor Design Information

Product:

Various metal and plastic pieces of equipment to fit within a load box

Load Box:

800mm wide x 800mm deep x 800mm high

Weight:

75kg (product) per cycle maximum in load box

Cycle Time:

10 seconds per rise or fall

Environment:

Externally hose proof

Site:

Wrexham
Wash Lift Conveyor Operation
1 No. Vertical Wash Lift 1250mm x 850mm (footprint) x 4750mm high.
The lift comprises of a box section structure and comes with adjustable plate feet +50mm for bolt down.
The structure was clad in bolt on sheet steel were appropriate. The two sides against the walls have angled make-up pieces to close off the access.
Within the structure is a vertical chain driven arrangement connected to a box which allows a load area/volume of 800mm wide x 800mm deep x 800mm high.
The box has two open sides with 50mm lips; these are opposite to each other and are the entry and exit routes for the product. The box has perforations in the base to allow water drainage.
The box travels up and down between two fixed positions; one at the top (entry/exit from the production room), and one at the bottom (entry/exit from the wash room).
There are clear polycarbonate doors at the top and bottom entry/exit points.
The conveyor system as a whole is interlocked with dual controls top and bottom, such that either can operate the unit but only with the doors closed.
The conveyor equipment is manufactured in grade 304 stainless steel and food quality materials where possible, a shaft mounted braked geared motor drive unit and central control panel was included.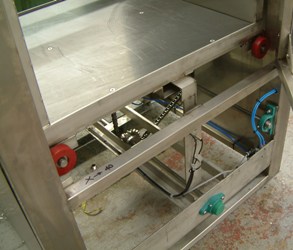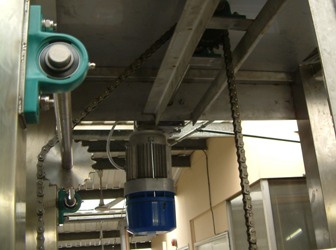 Wash Lift Conveyors