Corrugated Sidewall Conveyor Belts for Handling Loose Seeds
Description
Our project was to manufacture three Belt Conveyors handling seed products retained by a corrugated belt fed from above. A range of seed products typically sugar beet 2mm to 5mm diameter in a density of 400kg/cubic metre. Belt speed was 20m/min at a fixed speed.
The video below is some of our previously designed corrugated belt conveyors.
Sidewall retaining Belt Conveyor
2 No. Belt Conveyors 590mm wide with a food quality PU anti-static white belt c/w integral 80mm high giving a 450mm gap between, o/a length is 30000mm x 870mm high.
The conveyor was mounted on box section framework with adjustable bolt down feet +50mm. A shaft mounted geared motor drive was positioned on the right hand side viewed from the feed.
Included at the leg adjacent to the drive is a stud for an anti-static earth connection.

General construction grade 304 stainless steel with food quality materials where possible.
1 No. Belt Conveyor System as above but being 15000mm long.
Scrapers were excluded as Customer will use air cleaning methods.
Local guiding and any required end chutes were also supplied by the Customer.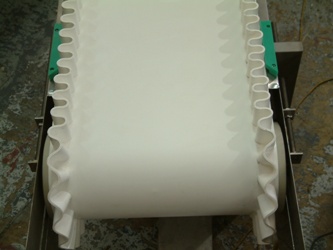 Conveyor Belt Retaining solutions for loose products
If your looking for general incline conveyors with flights please go to our dedicated page on Inclined Elevators...