Mild Steel Pallet Handling System for Cement
Manufacture of a Chain Pallet Conveyor System to transfer pallets loaded with cement products between existing equipment.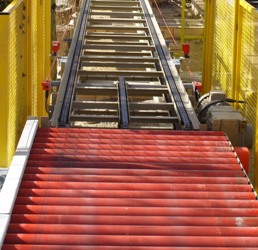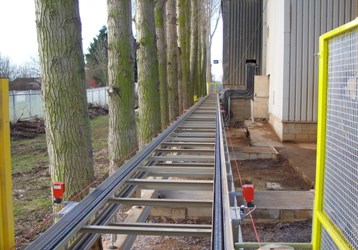 Chain Conveyor Description
Product and Design Details

Standard Wooden Pallets:
1000mm x 1200mm short edge leading
Throughput:
Up to 60 pallets per hour
Max Weight per Pallet:
1.4 tonne
Operation:
Stop/Start under full load via soft start
Usage:
24/7 with regular maintenance periods
Environment:
IP55 weatherproof drives
Pallet Handling System Supplied by C-Trak Ltd
3 No. In-Line Twin Chain Type Pallet Conveyors being 1050mm wide x 30000mm long x 700mm high manufactured in welded framework sections for bolt together installation.
Two runs of standard duplex chain operate at a fixed speed of 0.23m/sec = 13.8m/min designed to hold up to a total of 7 No. pallets. Speed will closely match feed and delivery existing equipment to reduce product movement on transfer.
General construction is Mild Steel primer painted with continuous wear strips under the chains. Legs are adjustable for levelling and bolt down. There are a total of 3 No. geared drives in the system.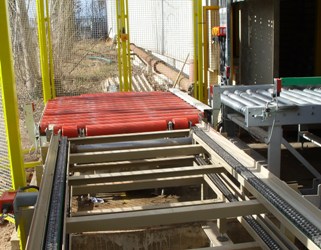 Pallet Handling System