Products
Updated 22-may-13
Spiral Conveyors
C-Trak provide a range of modern spiral conveyor systems designed to your specifications.
Elevate your Products with....
.....C-Trak Space Saving Spiral Systems

Food Grade or Robust Industrial Quality fabricated in Stainless Steel or Mild Steel Options
No room for a traditional style conveyors why not look at the spiral options elevating your products to upper floors or existing machinery.
Key Features of C-Trak Conveyors
Robust and Reliable Solutions
Transferring products from one level to another
Great versatility
Quality Components used
High performance
Complete turnkey
Compact Designs
Space saving
Stainless Steel or Mild Steel options
Easy Clean with no lubrication
Food and Pharmaceutical grade materials offered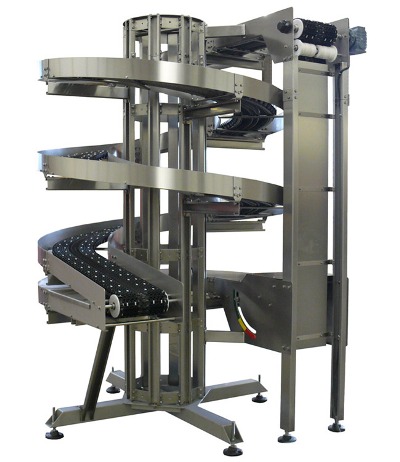 What ever your products C-Trak has the solution. Let us help you with your production line and provide you with a solutions that works.
C-Trak Video Clips of Spiral Conveyors
Click here for more Spiral Videos
We can supply different types of spiral conveyors depending on your application and products you are handling.
The more heavy duty spiral for heavy loads and high speeds it is extremely robust and reliable vertical conveyor for handling a large volume of goods such as cartons, bags & boxes. They require little maintenance and the panel belt has great resistance to chemicals and wear with a positive drive.
Another range is the modular design series which gives maximum flexibility easy to fit within your plant and offers strong heavy duty belts which ensure a long lifetime and once again low maintenance.
C Trak ~ Spiral Conveyor