Products
Overhead Chain Conveyor Systems
WE NO LONGER OFFER OVERHEAD CONVEYORS
C-Trak Ltd can provide you with a bespoke overhead chain conveyor system that can increase your productivity and thus your profit. Call now for a quotation or a site visit on 01525 850316.
These types of Overhead Conveyors are often used on assembly lines and paint spray workshops.
We can supply a system that can take up to 250kg at a speed of 0 to 25m/min. It is a closed continuous track with the powered transport chains which run within the track. Carriers hang directly from the chain.
Series 1000 Overhead Chain Conveyor
This Series of overhead chain conveyor can take a Max load of 125kg. It is a closed system with a cardan chain running within a steel track.
The conveyor can be suspended from the ceiling but alternatively can be mounted on floor standing pillars.
Available with automatic unloading and loading for example industrial robots. This type of conveyor is often to be found in surface treatment factories.
Loads can be hung directly from the chain.
Specification of the Cardan chain can be provided on request.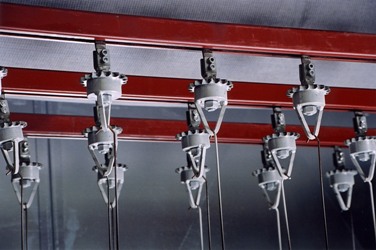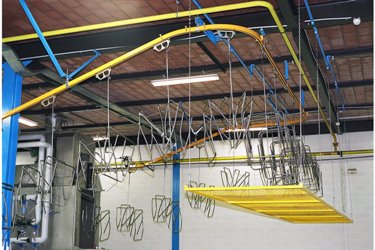 Series 1200 Overhead Chain Conveyor
This series of overhead chain conveyor is a lighter duty and can hold loads up to 25kg. Once again can be suspended from the ceiling or mounted on pillars. It can be used with industrial robots the same as the 1000 series. For more technical data please call the office on 01525 850316


C-Trak's Overhead Chain Conveyors